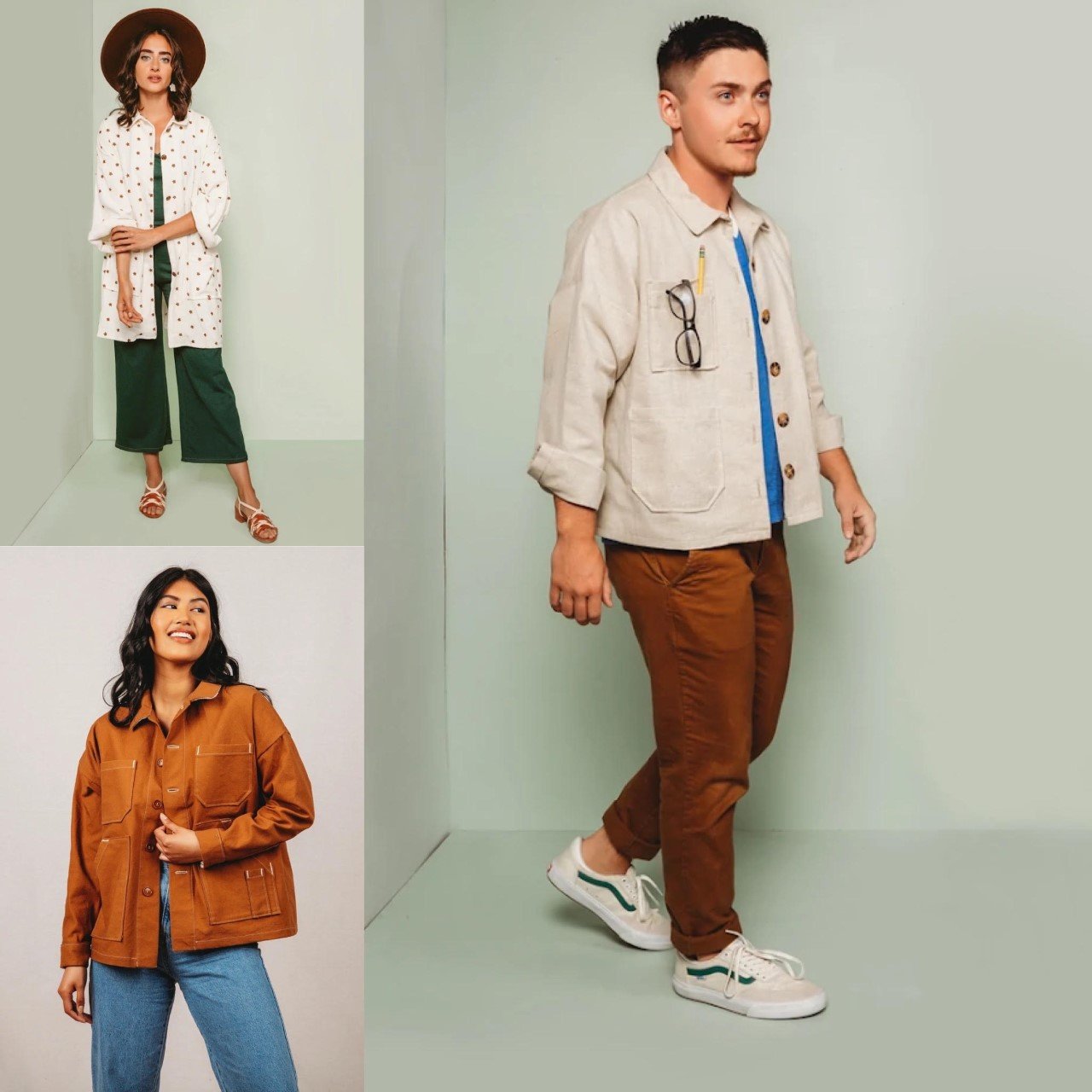 The Ilford Jacket is a versatile style with a modular design that makes for a pattern that is simple, yet impactful. It can be customized a million different ways and really is a "choose your own adventure" type of pattern that incorporates your design sense into the project! It features drop shoulders and comes with two sleeve options: a placketed sleeve with cuff, and an easy to sew boxy sleeve for a more relaxed vibe. It also includes two lengths as well as a bunch of pocket templates that you can mix and match! The possibilities are endless! You can wear the Ilford as a jacket or shirt depending on the fabric you use. This is a fun, skill building pattern that you will want to make/wear again and again! This pattern is for everyone and looks great on all genders! In class we will go over patch pocket placement and tips to ensure they evenly placed. We will also go in depth on how to sew a collar, sleeve plackets and cuffs. These details may seem fiddley and intimidating, but if you take it slow you will be amazed what you can accomplish.

SKILL LEVEL: INTERMEDIATE
You should have previous machine sewing experience and have completed several projects. You should be comfortable taking your measurements and using those to read the back of the pattern to determine the necessary supply amounts. Please email erin@pacificfabrics.com if you are unsure if your skill level is appropriate.

PREREQUISITE: Garment 201 or equivalent experience.


CLASS DATES: Click 'Select Date' to view upcoming classes.

LOCATION:
Seattle Pacific Fabrics
2230 4th Ave. S
Seattle WA 98134
Our elevator is available Tuesday through Friday 10:00 am - 2:30 pm only.

Find your SUPPLY LIST HERE!

Before you register, please CLICK HERE to read all of our class policies.

Class fees are non-refundable unless the class is cancelled by the store.

You will receive a 20% discount on your class supplies with your registration receipt or email us after you register for a web store coupon code.

| | |
| --- | --- |
| Instructor: | Erin Hubner |
| Instructor Bio: | Erin learned to sew as a kid and was always crafty but didn't really get fully into sewing until after college. After making a few rather involved Halloween costumes she realized she could make clothes to wear every day, not just at the end of October. Eventually this led to her going back to school for fashion design and construction and teaching classes for over 6 years. Her main focus may be garment sewing, but she has also worked on accessories, home decor and quilting. Basically, if it involves fabric, thread, yarn, or other similar craft supplies she probably does it on a semi regular basis. Except projects involving hot glue, she does try to stay away from those. |